What better way to celebrate the opening ceremonies of the Olympics in Sochi than with a Russian feast? My husband and I got together with good friends to do just that. It was the idea of my best friend Lisa, who lived in Russia for a period of time following college and loved the hospitality and food she experienced there. Lingering effects of the cold war have given the impression of a stoic and solitary people, who were taught at a young age to not make eye contact with anyone when they left the home, and speak carefully and infrequently, not knowing who was listening. But Lisa said that once you entered their homes, they were a different people, friendly and hospitable, entertaining and cooking for whomever was in their home.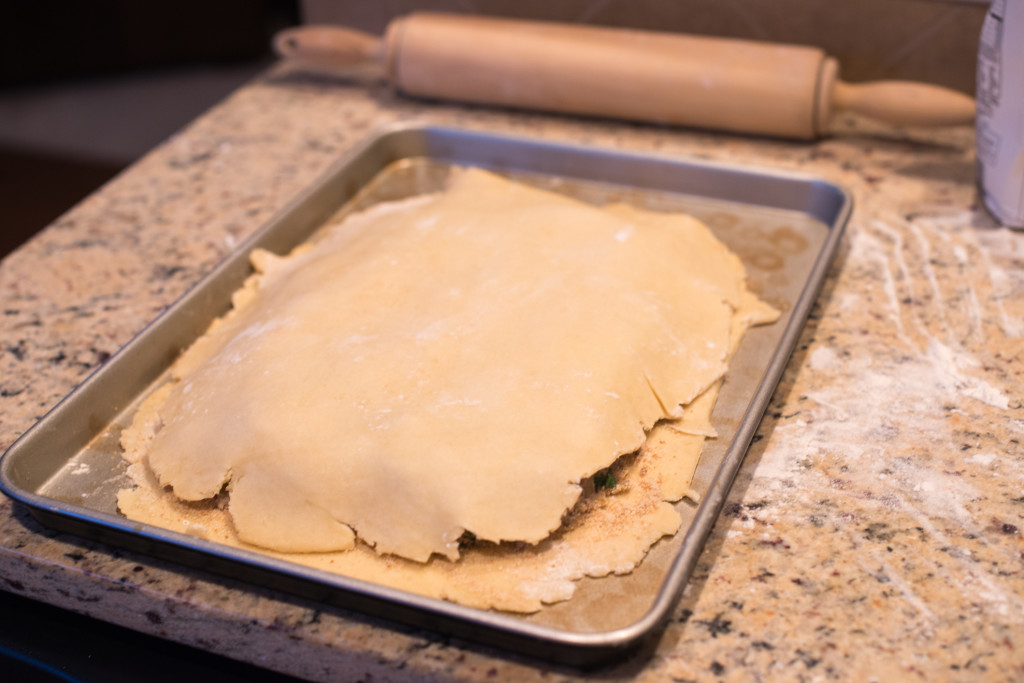 Our Russian feast consisted of Borscht (beet and cabbage stew), Black Bread (a sweet, spiced dark bread), Pirog (meat pie), and Blini (similar to a crepe, with a sweet farmer's cheese filling) with Strawberry Sauce for dessert. On a cold winter's night, this was one good, hearty meal! It was my first time making the Pirog (russian pierogi), and this particular recipe made one large pie, rather than many smaller ones. And although there are few ingredients in the filling, it has a lot of flavor and is one we will make again. You could easily half it, or make two pies and freeze one. The recipe serves 10, so it is a large pie. (FYI – see those little brown circles on my pan? That's from roasting last summer's cherry tomatoes with olive oil. Mmm hmmm. Thought I would never get that cleaned up. Lesson learned.)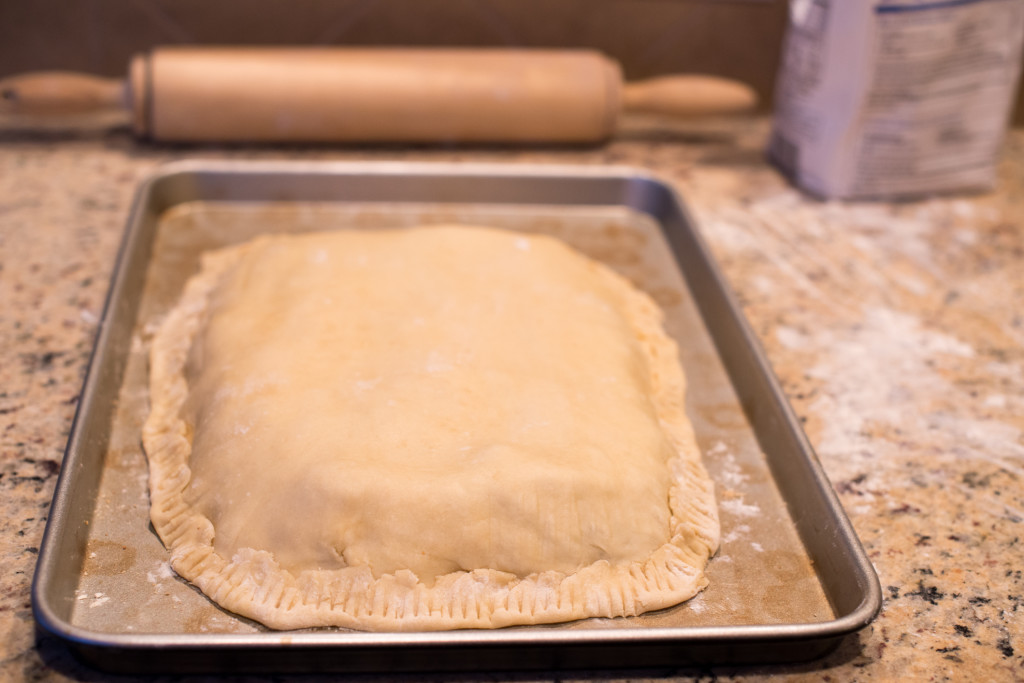 Russian Pirogi – This recipe is divided into three parts; the dough, filling, and total composition. You can make the dough up to 24 hours in advance (chill in the refrigerator), and the filling could also be made ahead. From "Please to the Table: The Russian Cookbook" by Anya von Bremzen and John Welchman.
Quick Yeast Dough (Drozhzhevoye Testo na Skoruya Ruku)
1 pkg active dry yeast
1 large egg, lightly beaten
2 tsp sugar
½ tsp salt
2/3 cup lukewarm milk (105-115F)
3 ¼ to 3 ¾ cups all purpose flour
1 cup (2 sticks) unsalted butter, melted and cooled to room temperature
In a large bowl, combine yeast, sugar, and milk and let stand until foamy, about 5 minutes. Add the butter, egg and salt to the yeast mixture and mix well with a wooden spoon. Stir in 3 ¼ cups flour, 1 cup at a time, stirring well after each addition.
Transfer the dough to a floured surface and knead gently until you have smooth, rather loose dough, about 3 minutes, adding just enough of the remaining flour to prevent sticking. Shape into a ball, cover with a linen or cotton kitchen towel and let stand for 10 minutes. The dough is now ready to use. You can refrigerate it for up to 24 hours.
Meat Filling (Myasnaya Nachinka)
2 lbs ground beef, cooked
3 tbsp vegetable oil
1 ½ tbsp. all purpose flour
3 large onions, finely chopped
2 tbsp chopped fresh dill (optional)
2 tbsp chopped fresh parsley
1/3 cup beef broth
3 heaping tablespoons sour cream
salt and pepper to taste
Heat the oil in a medium skillet over med-high heat. Add the onions and sauté, stirring frequently, until well browned, about 15 minutes.  In a large bowl, combine the onions, beef and remaining ingredients. Stir until well blended.
Large Savory Filled Pie (Pirog)
1 recipe yeast dough
1 recipe meat filling
¼ cup unflavored, fine dry bread crumbs
1 large egg yolk beaten w/ 1 tsp milk
Preheat oven to 375, lightly butter an 18 x 12 x 1 inch baking sheet. Divide the dough into two slightly uneven pieces. On a floured surface with a floured rolling pin, roll out the larger piece of dough to a 14 x 10 inch rectangle and transfer to the baking sheet (there should not be overhang). Sprinkle the surface with bread crumbs and spread the filling evenly over the crumbs, leaving a 1 ½ inch border all the way around. Roll out the second piece of dough to a 12 ½ x 8 ½ rectangle and place over the filling. Fold up the edges of the bottom crust and press to seal. Crimp decoratively with the tines of a fork. Brush the top with the egg wash. Allow to rest for 20 minutes before baking. Bake until the crust is golden and baked through (cover with aluminum foil if the crust is browning too quickly), 40-45 minutes. Serve warm or at room temperature, cutting into squares before serving. Makes 1 large pirog (serves 10).