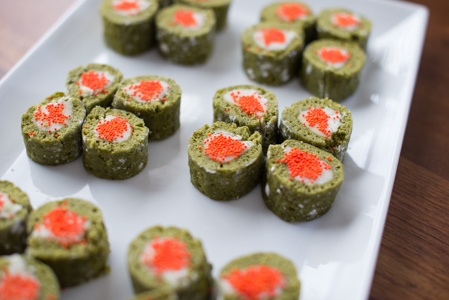 J is for… Japan! Our international dinner group has worked through the alphabet over the last year and a half, arriving at the letter "J". (You can see the post on India HERE.) In the rotation, our item to bring was dessert. Although it seems that the Japanese don't eat quite the assortment of cookies, cakes, and pies that we do, they do have some interesting items. Many, surprise, are carefully formed into little works of art. And many include things like red bean paste, not a common element in my dessert cooking. I thought watching all those episodes of "Chopped" might pay off, incorporating proteins in the dessert round. Either w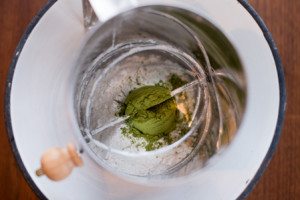 ay, I was curious enough to give a couple – daifuku mochi and matcha cake – a try. The mochi was… different. I'm not a big fan. It is basically a sweet rice flour dough around sweet bean paste. But the matcha cake was fun to do, and with a buttercream filling, had just the right amount of sweetness. The rest of the meal was great, including sushi for dessert, breaded pork and rice, stir fried vegetables, sake, and Japanese beer. Another great evening trying new recipes and enjoying the company of good friends.
Matcha Cake Rolls from Sprinkle Bakes
Matcha Sponge Cake:
3/4 cup all purpose flour
1 tablespoon Matcha tea
1/4 teaspoon baking powder
3 large eggs
1/2 cup sugar
pinch of salt
2 tablespoons melted butter
Confectioners' sugar for dusting
Preheat oven to 350 degrees. Grease a 9×13 baking pan and line with parchment paper; grease the paper also.  Prepare two thin tea towels, generously sprinkled with confectioners' sugar.  Sift flour, Matcha, and baking powder into a bowl and set aside.
Whisk eggs and sugar together in a metal bowl.  Set over a pot of simmering water on the stove and heat for a few minutes, whisking constantly until the mixture is thick and warm to the touch.
Pour egg mixture into the bowl of a stand mixer, add the salt and whisk with the whip attachment on high speed for a few minutes until the mixture has cooled and tripled in volume.
Remove bowl from mixer and fold in flour mixture with a rubber spatula, trying not to deflate the batter.  Fold until green color has fully developed.  Add the melted butter and fold again until combined.
Pour batter into prepared pan and spread evenly with an offset spatula.  Bake for 8-10 minutes.  When done, the center of the cake should bounce back when pressed with fingertip.
Remove from oven and immediately turn out onto a wire rack.  Peel off the piece of parchment on the bottom of the cake.  Quickly cut the cake lengthwise down the middle so you have two long skinny rectangles.  Transfer each piece to a tea towel and roll into towel from longest side.  Let cool completely.  Remove from tea towels and let roulades rest on a surface lightly sprinkled with powdered sugar.
White chocolate buttercream:
4 oz. white chocolate
2 1/2 tablespoons whipping cream
1 stick of butter, softened
3/4 cup powdered sugar
In a medium sized bowl, melt chocolate and whipping cream together in the microwave at 30 second intervals, stirring well between heating.  When smooth, add softened butter and 1/4 cup of powdered sugar.  Using a hand mixer, combine the ingredients, gradually adding the remaining powdered sugar.  Transfer to a piping bag or Ziplock (sandwich) bag.
Assembly:

Fill roulades with buttercream and wrap tightly in plastic wrap.  Refrigerate until icing is firm to the touch.  Cut cakes evenly into 24 pieces.  Garnish with orange or red nonpareils.