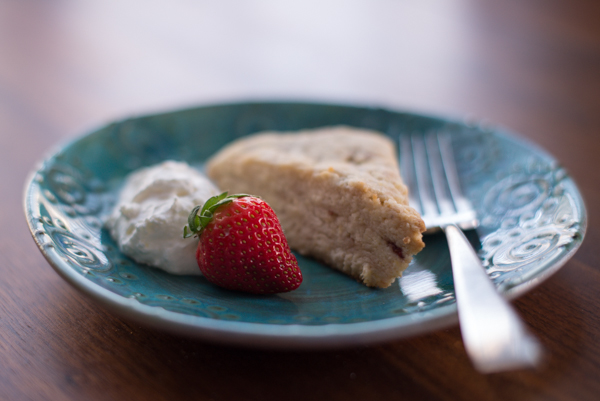 When I was in college, I worked at a coffee shop and baked a couple mornings a week. This meant I got up at 4am on those days. And I'm not a morning person. Not sure how I ended up doing that as a college student! I remember a particularly brutal cold and windy morning when we had so much snow that there was no way I would be able to drive, so I had to walk. And let me tell you, NO one was out that day. On the way home, just as my apartment was in sight, a police man driving by felt so bad for me he offered me a ride. Other than that day, I usually enjoyed being there myself, getting all the coffee machines started, playing whatever music I wanted, and baking in a tiny room that had a window that looked out over the back alley, and the sunrise. We usually did a mix of scones, muffins and coffee cakes, of which the scones were always my favorite. The majority of those recipes, including the one below, came from the book Simply Scones (found here on Amazon). To this day (which isn't SO far from those college days… right?…) I use those recipes often. They are ones I can always depend on, and tweak if desired.
My favorite is the Classic Cream Scones, which I usually turn into Strawberry Cream Scones by adding strawberry jam. You can easily change the flavor of this recipe to whatever jam type you prefer, or add chocolate chips, coconut, etc. Or you can make them as-is and add the toppings after they are baked. Either way, while they are great as a breakfast food, I more commonly make them for dessert, or as an afternoon snack. A couple other recipes in the book I love include the Chocolate Chip Orange Scones, Orange Poppyseed, and Cheese Scones (savory). The cheese scones are great as a side with a pot of chili.
Classic Cream Scones
2 cups flour
1/4 cup sugar
2 tsp baking powder
1/8 tsp salt
1/3 cup butter
1/2 cup heavy whipping cream
1 egg
1 1/2 tsp vanilla
Preheat oven to 425 F. Mix the dry ingredients together in a medium bowl.  Add cold, diced butter and cut in with a pastry tool, fork, or your hands until the size of small peas. (At this point, if I'm using jam, I will add about 1 heaping tablespoon and mix it in. Use more if you want a stronger flavor.) Add the egg, vanilla and some of the cream and begin mixing with a spoon. Add the cream a little at a time until the dough is moistened, but not wet. Often I don't end up using all the cream. Pour the dough out onto a lightly floured surface and form into a round disc, higher in the middle and thinner at the outside, about 8″. Using a floured knife, cut into eight wedges. Place on a baking sheet, about an inch apart and bake for 12-18 minutes, or until lightly browned. The time will depend on your oven, and how thick your wedges are. You can serve them warm, or at room temperature. For dessert, I will serve with a dollop of fresh whipped cream.
This image is available for purchase – click here for more information