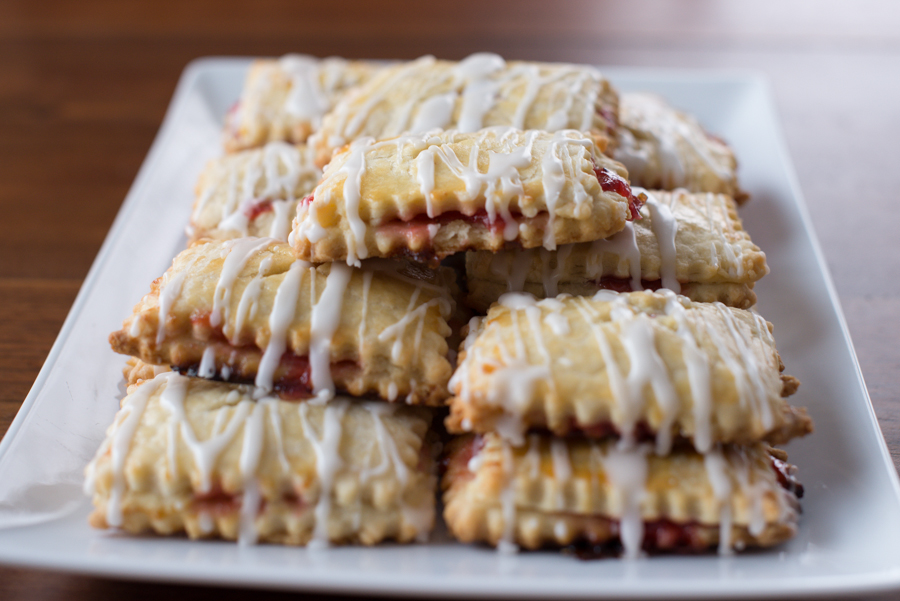 My best friend is not a fan of cake. In fact, for her birthday, her mom would make her favorite pie – Strawberry Rhubarb. So when I was deciding what to take her for dinner after the birth of her second child this past weekend, and I found this recipe in the current Southern Living magazine, I knew it was perfect. After all, strawberry season is right around the corner and better to stock up on potential recipes now than when your fridge is filled with extremely ripe berries.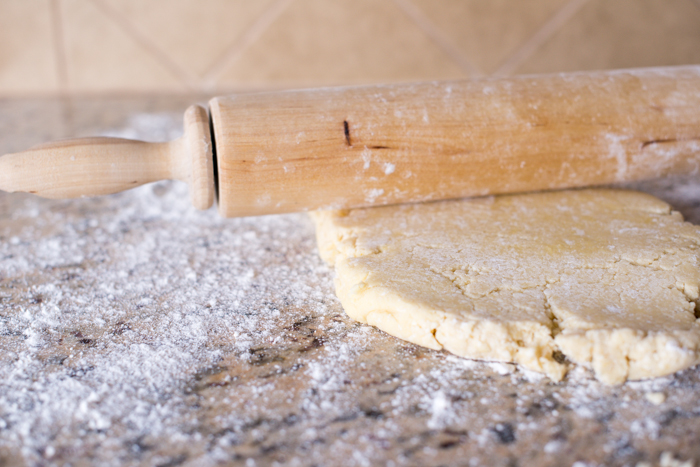 These tartlets are super yummy. A tasty pastry dough (seriously, look at the ingredients) filled with an equally flavorful filling (again – sugar, fruit, butter…yum). Perfect for dessert, snack, afternoon coffee, standing outside enjoying the weather… you get the idea. I will say that this is a multi-step recipe, so you may want to break it up – the dough and filling are quick to make and need to chill, so you can do that in one step, then compose them later.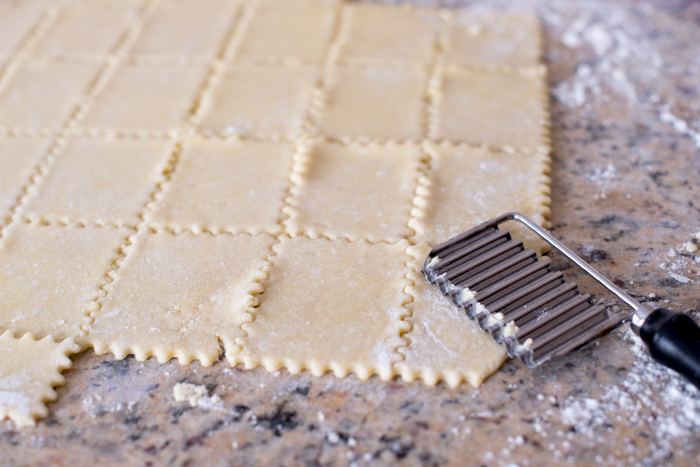 The colder the dough, the easier to roll. Once it reaches room temperature it becomes uber sticky, like wet bread dough. And I would also recommend dividing the dough in half and working with it in two batches. If you are like me, when working with a large piece of dough, the middle tends to be thicker than the outside, so this helps prevent that from happening.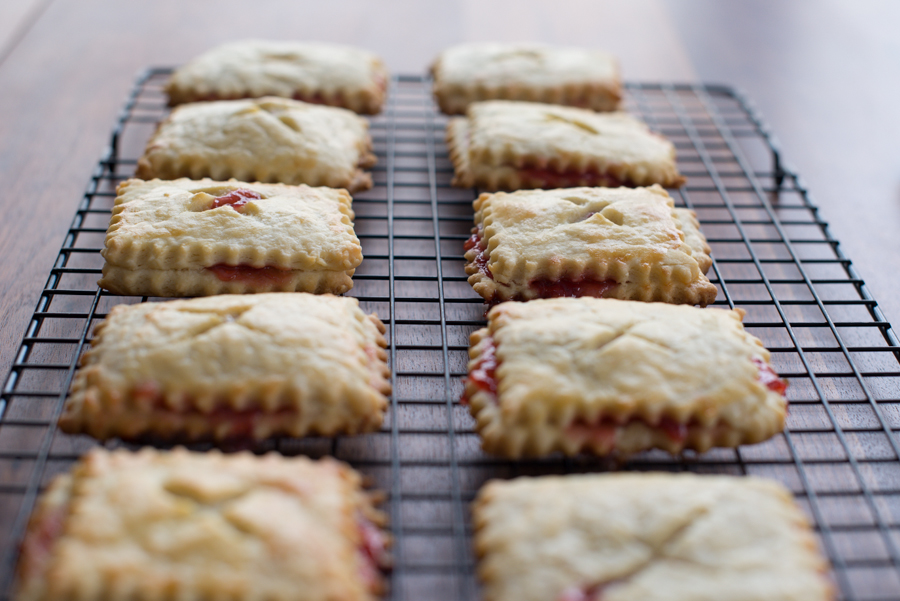 My filling tended to squish out when I made the sandwiches and I was worried it would all ooze out while baking, but that wasn't the case. DEFINITELY use the parchment paper as recommended. Sticky, oozed-out filling comes right up from parchment, whereas I'm sure it would be a pain to clean from the pan itself. These are excellent warm from the oven, however they didn't loose anything when eaten later at room temperature, so they are the perfect make-ahead dessert. And I ended up with extra filling that is waiting to be spread on pancakes or biscuits, no complaints. : )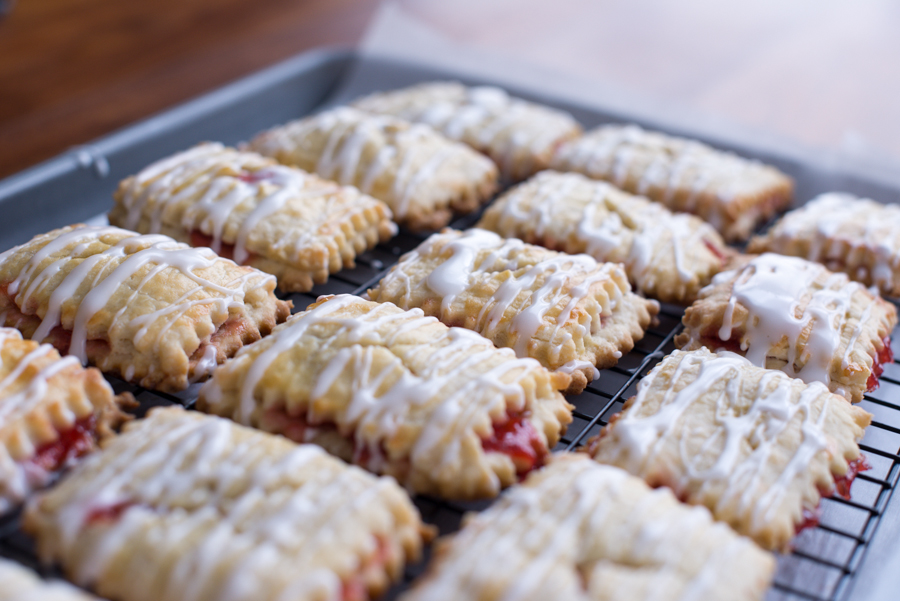 Strawberry Rhubarb Tartlets – Southern Living Magazine
Ingredients
2 1/2 cups all-purpose flour
1/4 cup granulated sugar
1/4 teaspoon table salt
1/4 teaspoon baking powder
1 cup cold butter, cut into small pieces
2 large egg yolks
1/2 cup ice-cold water
3 tablespoons butter
1/2 cup sliced fresh or frozen rhubarb
1 cup sliced fresh strawberries
2/3 cup granulated sugar
1 tablespoon all-purpose flour
3 tablespoons fresh lemon juice, divided
Parchment paper
1 large egg
2 1/2 tablespoons milk, divided
1 1/2 cups powdered sugar
Preparation
Pulse first 4 ingredients in a food processor until blended. Add cold butter, and pulse 5 or 6 times or just until mixture resembles coarse meal. Stir together egg yolks and ice-cold water. With processor running, pour yolk mixture through food chute, and process just until mixture forms a ball and pulls away from sides of bowl. Wrap dough in plastic wrap; chill 1 hour.
Meanwhile, melt 3 Tbsp. butter in a 1-qt. saucepan over medium heat. Add rhubarb, and sauté 3 minutes. Stir in strawberries and 2/3 cup granulated sugar; cook, stirring constantly and crushing fruit with spoon, 5 minutes.
Stir together 1 Tbsp. flour and 2 Tbsp. lemon juice until smooth. Stir juice mixture into rhubarb mixture; bring to a boil. Cook, stirring often, 2 minutes or until thick. Remove from heat, and transfer mixture to a small bowl. Cover and chill 30 minutes.
Preheat oven to 350°. Unwrap dough; roll to 1/8-inch thickness on a floured surface. Cut dough into 48 rectangles, using a 2 1/2- x 3-inch cutter and rerolling scraps. Place half of dough rectangles 2 inches apart on parchment paper-lined baking sheets. Top each rectangle with about 1 Tbsp. strawberry mixture. Dampen edges of dough with water, and top with remaining dough rectangles, pressing edges to seal.
Stir together egg and 2 Tbsp. milk, and brush over tops of tarts. Cut a small "X" in top of each tartlet for steam to escape.
Bake tartlets at 350° for 30 to 35 minutes or until golden. Transfer tartlets to a wire rack; cool 15 minutes. Whisk together powdered sugar and remaining 1 Tbsp. lemon juice and 1 1/2 tsp. milk; drizzle over tartlets.
Several of these images are available for purchase – click here for more information