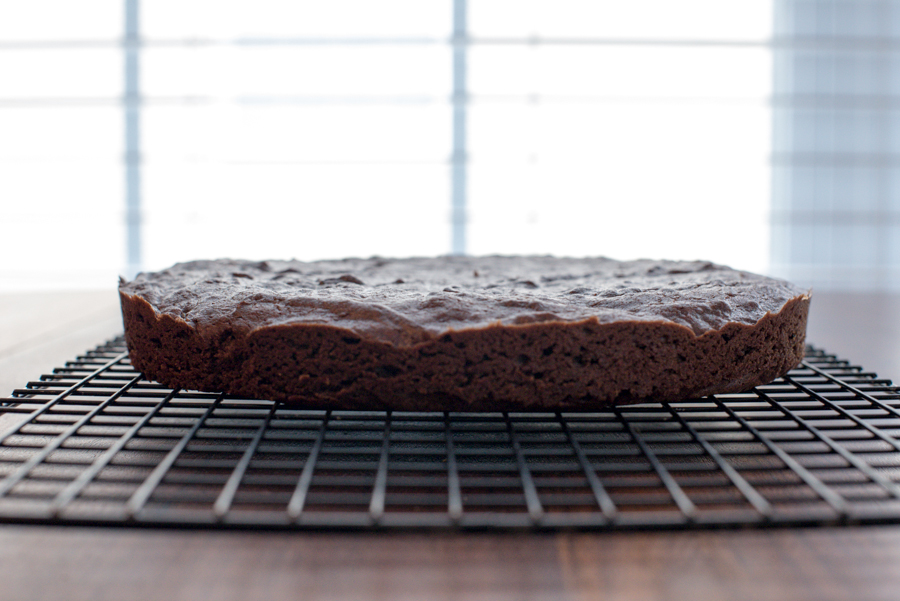 Red wine and chocolate are a combination that go well together. That's why putting the two in a CAKE is an even better idea. I happened upon this recipe from Smitten Kitchen a couple years ago when a friend and I were going to get together and decided to bake while we hung out. When we had a group over this weekend, this was requested, which was easy to agree to. It is almost a cross between a brownie and a cake, more similar to a flourless cake than anything else. Since the recipe isn't complicated and pretty quick to put together, it is great to serve company or make last minute.  The red wine gives the cake an extra flavor, and combine that with the whipped mascarpone topping and you have a definite winner.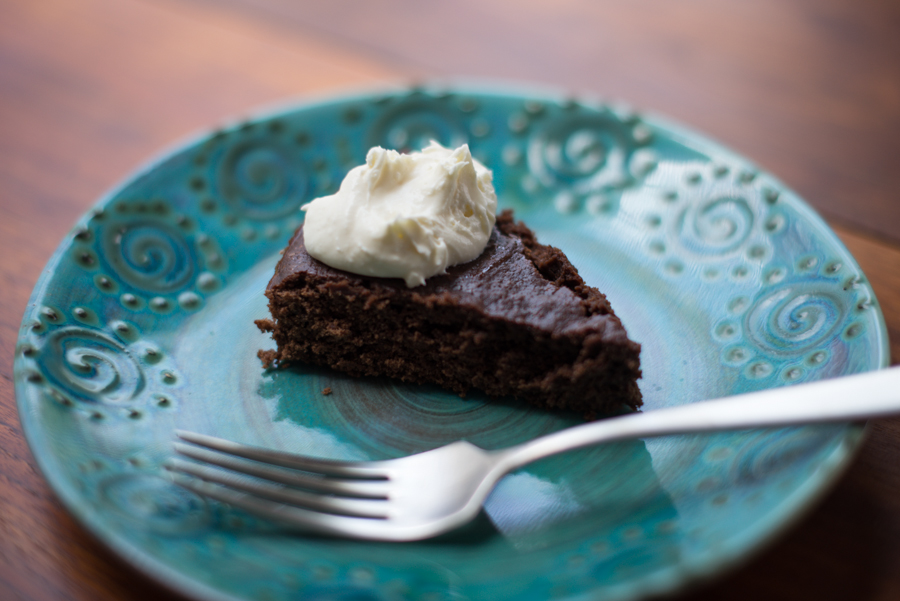 As I could not locate my 9″ pan, I baked mine in an 8″ and for 25 minutes, which made it slightly denser with a more brownie texture. I'll continue to make it this way in the future as I was even more of a fan. You could easily throw some sliced strawberries or raspberries for an additional garnish and flavor, although it doesn't need anything additional. I mean, it IS a chocolate cake. Mmmm… chocolate.
Red Wine Chocolate Cake – Smitten Kitchen
Cake
6 tablespoons unsalted butter, at room temperature
3/4 cup firmly packed dark brown sugar
1/4 cup white granulated sugar
1 large egg + 1 large egg yolk, at room temperature
3/4 cup red wine, any kind you like
1 teaspoon vanilla extract
1 cup + 1 tablespoon all-purpose flour
1/2 cup Dutch cocoa powder
1/8 teaspoon baking soda
1/2 teaspoon baking powder
1/4 teaspoon table salt
1/4 teaspoon ground cinnamon
Topping
1/2 cup mascarpone cheese
1/2 cup (118 grams) chilled heavy or whipping cream
2 tablespoons (25 grams) granulated sugar
1/4 teaspoon vanilla extract
Make the cake: Preheat the oven to 325°F. Line the bottom of a 9-inch round cake pan with parchment, and either butter and lightly flour the parchment and exposed sides of the pan, or spray the interior with a nonstick spray. In a large bowl, on the medium speed of an electric mixer, cream the butter until smooth. Add the sugars and beat until fluffy, about 3 minutes. Add the egg and yolk and beat well, then the red wine and vanilla. Don't worry if the batter looks a little uneven. Sift the flour, cocoa, baking soda, baking powder, cinnamon and salt together, right over your wet ingredients. Mix until 3/4 combined, then fold the rest together with a rubber spatula. Spread batter in prepared pan. Bake for 25 to 30 minutes, or until a cake tester inserted into the center comes out clean. The top of the cake should be shiny and smooth, like a puddle of chocolate. Cool in pan on a rack for about 10 minutes, then flip out of pan and cool the rest of the way on a cooling rack. This cake keeps well at room temperature or in the fridge. It looks pretty dusted with powdered sugar.
Make the topping: Whip mascarpone, cream, sugar and vanilla together until soft peaks form — don't overwhip. Dollop generously on each slice of cake. It can also be covered and refrigerated for up to 4 hours.