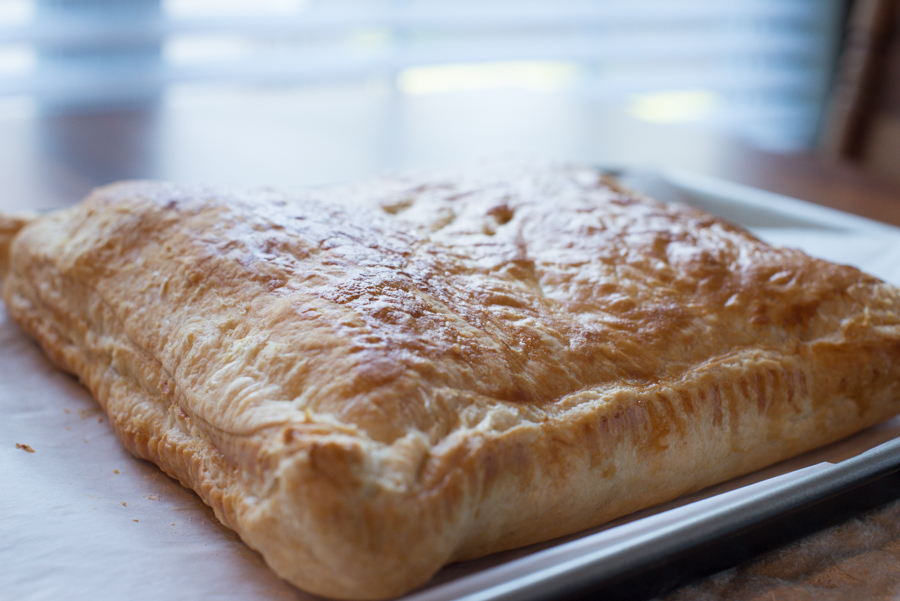 Melty cheddar and black forest ham with a whole grain mustard and apricot spread, sandwiched between layers of phyllo dough. Yum. I tried this Country Ham and Cheddar Pie from "Brunch with Bobby Flay" for dinner last week when my husband was out of town. I wanted something simple and easy to make, because I knew I'd be sewing and working on various projects all day, which meant most likely loosing track of time. While this is a brunch recipe, and I had it for dinner, it would work well as a lunch too for kids. Although I like this combination, it is one of those recipes that you can do an infinite number of ways – turkey, spicy mustard, cranberry sauce, craisins, apples, walnuts, whatever combination you like would work with this recipe.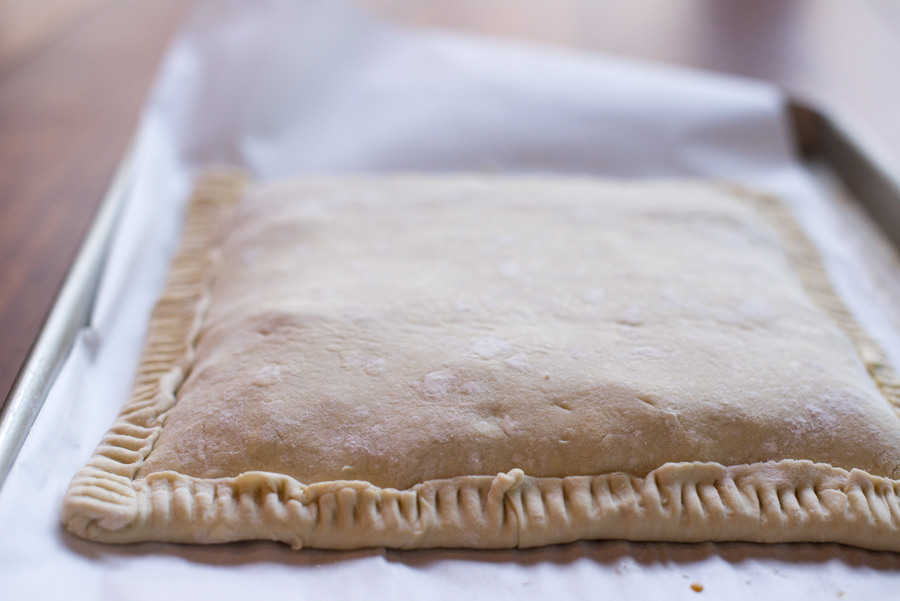 Country Ham and Cheddar Pie – Bobby Flay
Ingredients
1 package (2 sheets) all-butter frozen puff pastry, defrosted but still cold
1 large egg plus 2 tablespoons water, beaten
3 tablespoons whole grain mustard
1 tablespoon apricot jam
Freshly grated black pepper
8 ounces thinly sliced country ham or Black Forrest ham
6 ounces coarsely grated aged white Cheddar
Directions
For the pie: Place a rack in the center of the oven and preheat to 400 degrees F. Line a half-sheet pan with parchment paper. Set aside.
Unfold or unroll one sheet of the puff pastry on a lightly floured surface. Gently roll with a rolling pin until each side is increased by about 1/2-inch. Place the pastry on the prepared baking sheet and brush the pastry from edge to edge with prepared egg wash. Combine the mustard, apricot jam and a generous amount of black pepper in a small bowl, and spread over the egg wash, leaving about an inch border between the mustard and the edge of pastry. Place the ham evenly over the mustard and then evenly spread the cheese over the ham.
Roll out the second piece of puff pastry as the first, increasing the size by about 1/2-inch on each side. Gently place it on top of the ham and cheese and press the edges together with your fingers. Gently fold about 1/2-inch of the edges over, creating a thick crust. Press the edges with the tines of a fork. Dip the fork in flour if it sticks to the puff pastry during pressing. Lightly brush a layer of egg wash over the top and edges of the pie. Cut a few small slits into the top of the pie and bake until cooked through and golden brown, 30 minutes.