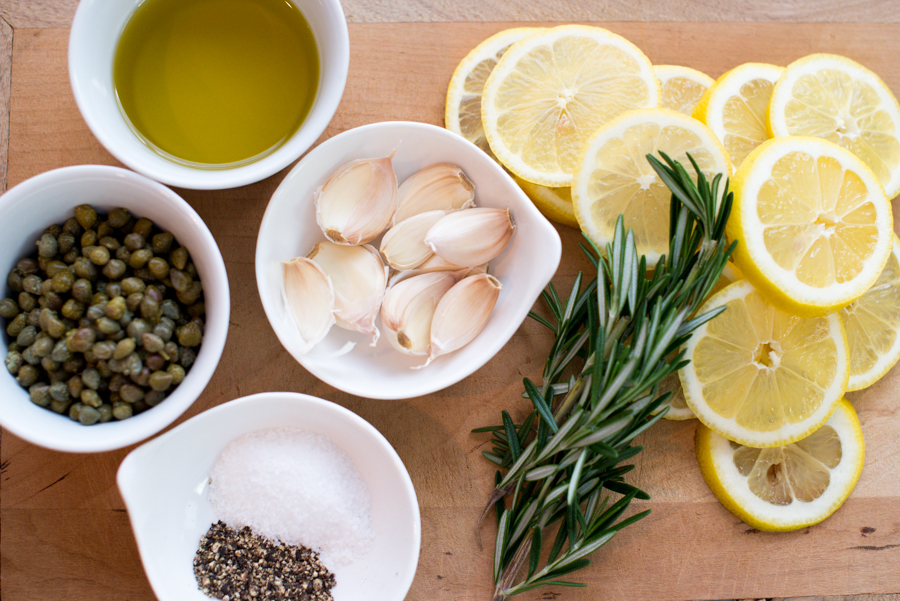 Sundays are those days for us that we love to totally relax, church in the morning, grab a nap in the afternoon and generally just put our feet up. I love when we have leftovers for Sunday evenings, but when that doesn't happen I try to schedule meals that aren't as labor intensive. This recipe for Lemon Rosemary Chicken from Southern Living is one of those – easy and full of flavor, and yet would work for company.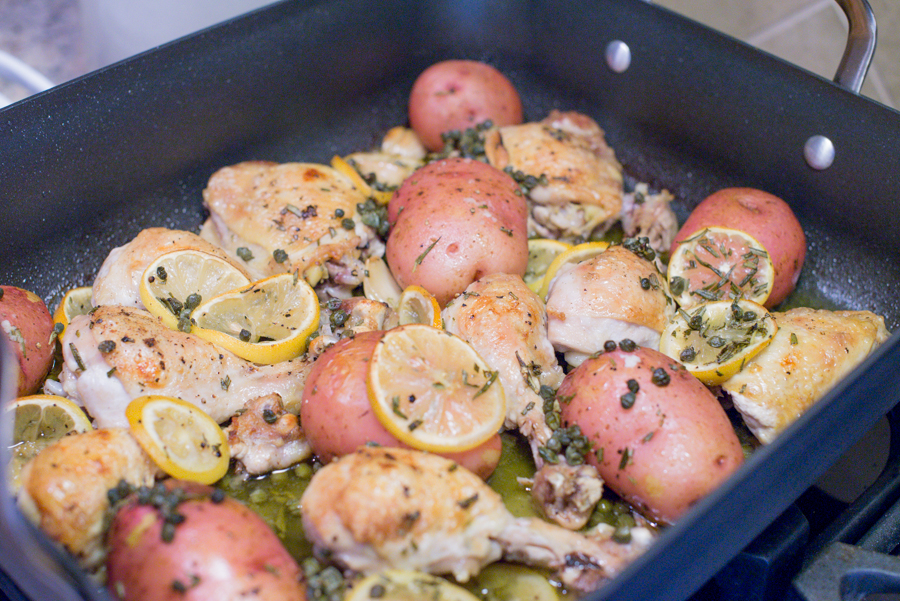 Due to cooking the chicken on the bone and using thighs and legs, it is extremely juicy and tender. Be sure to use the pan drippings as additional sauce when serving – the mix of lemon and olive oil is amazing. While there is a good amount of rosemary, it doesn't overpower the dish but adds just a hint of flavor. And the leftovers are just as tasty the next day. I haven't tried it yet with breast meat, but plan on doing so for a white meat option. And being someone who needs veggies, we did some quick green beans as an additional side.
Lemon Rosemary Chicken and Potatoes
Ingredients
1/3 cup olive oil
1/4 cup fresh lemon juice (2-3 lemons)
1 (3.5-oz.) jar capers, drained
2 lemons, sliced
10 garlic cloves, smashed
3 tablespoons fresh rosemary leaves
2 teaspoons kosher salt
1 teaspoon freshly ground black pepper
3 tablespoons olive oil
6 chicken legs (about 1 1/2 lb.)
4 skin-on, bone-in chicken thighs (about 2 1/2 lb.)
2 pounds small red potatoes
Crusty French bread
Preparation
Preheat oven to 450°. Stir together first 8 ingredients in a medium bowl.
Place a roasting pan on stove top over 2 burners. Add 3 Tbsp. olive oil, and heat over medium-high heat. Sprinkle chicken with desired amount of salt and pepper; place, skin sides down, in pan. Add potatoes. Cook 9 to 10 minutes or until chicken is browned. Turn chicken, and pour lemon mixture over chicken.
Bake at 450° for 45 to 50 minutes or until chicken is done. Serve chicken with sauce and French bread.