Although my sewing style is more experimental and try-as-you-go, I do enjoy finding patterns to try out, which inevitably teach me a new technique or idea that I can apply in other areas. And let's be honest, small and quick projects are more likely to get finished, especially in the summer than the bigger ones. It may be true that I have a couple of large unfinished quilts. Maybe. So in that spirit, here are some fun summer projects that can be done within a day for those of you who want some instant gratification. Or if you are 39.5 weeks pregnant and need something to distract you while you wait.
Baby and Misses Shoes – Simplicity 2278
Why are things cuter when they are smaller? These little baby shoes make a great shower gift and the pattern comes with five different variations. They would be really nice with felted wool and lined with flannel. One note – since they ARE small, be patient and go slow putting them together so everything lines up well.
Buttercup Bag – Made By Rae
This free pattern makes a great little bag. It is just large enough to hold my wallet, phone and keys, so I end up using it often when I don't want to carry a large bag around, or I want to put my purse inside another bag. If you want to make it a little larger, Craftster has some options for doing so and adding other options.
Pillowcase Dress
There are tutorials all over the place for these dresses which were originally made using pillowcases. You can just as easily make them with rectangles of fabric. One of those tutorials can be found at Sew Like My Mom.
Poppy Doll – Hop Skip Jump
I can't remember how I found this pattern, but I remember thinking it was so cute, and at the time my sister was expecting a girl. Hop Skip Jump has a couple of other cute animal patterns, including a giraffe that I'd like to try eventually. You download the pattern once you purchase, which is really nice.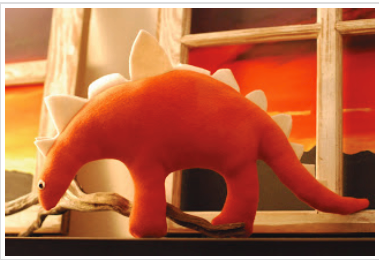 Or you could create your own project – I made this dinosaur out of felted wool for my nephew. It was as  simple as drawing out the design (you can find silhouette images online to use), cutting the fabric and stuffing it after I sewed the two pieces together. Turned out cute and was a pretty quick project.
Lots of options for those rainy or sweltering summer days. And while you are at it, make some strawberry sherbet too. : )