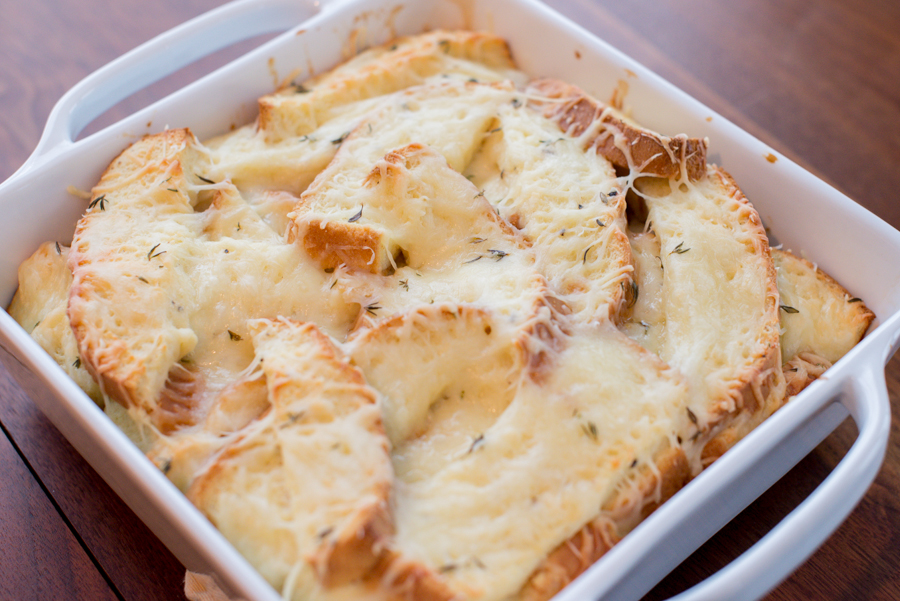 I enjoy sides I can put together and let bake while I work on the rest of dinner. This bread gratin is a mild flavored dish that works well with a main that has stronger flavors – balances it out well. We had it with Apple Pork Chops, so it worked well with the sweetness of that dish. It really doesn't take long to put together, and doesn't require many special ingredients.
For the bread, I used regular country white loaf bread, nothing special. But if you kicked the bread quality up, it would definitely add to the dish. It is almost a savory bread pudding, maybe a little less "pudding" of a texture than the dessert variety. Either way, I enjoy it as a simple side.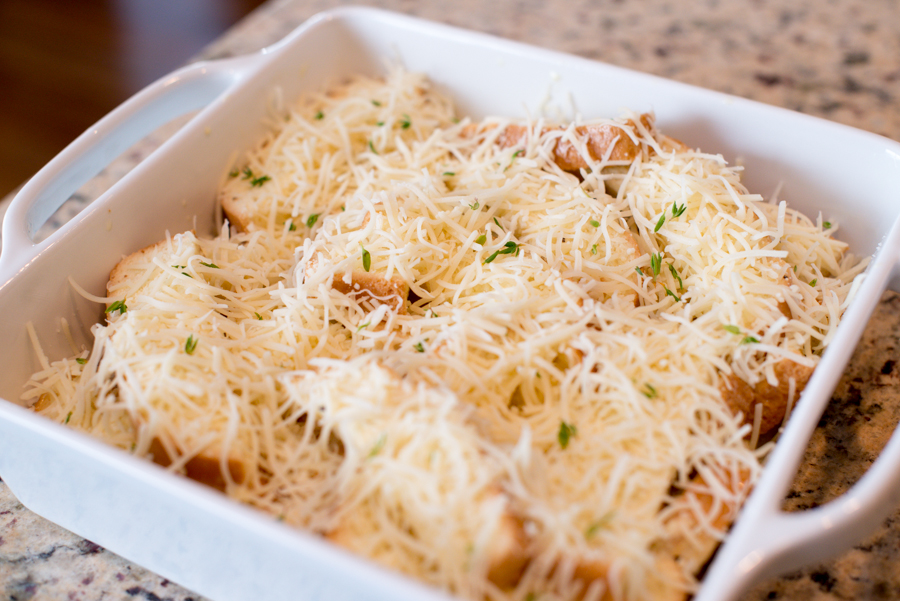 Gruyere Gratin with Thyme – Martha Stewart
1 teaspoon unsalted butter

3 large

eggs

1/2 cup heavy cream

3/4 cup milk

1/2 teaspoon salt

Pinch of freshly ground pepper

Pinch of freshly ground nutmeg

1/2 loaf white country or peasant bread (about 12 ounces), cut into 1-by-1-by-3-inch strips

1/4 cup dry

white wine

1 cup grated

Gruyere

or Swiss

cheese

2 sprigs fresh

thyme

, leaves reserved
Directions
Heat oven to 350 degrees. Butter a shallow 1 1/2-quart baking dish, and set dish aside. In a large bowl, whisk together the eggs, cream, milk, salt, pepper, and nutmeg.

Immerse the bread strips in the egg mixture. Immediately transfer strips to the baking dish, and arrange randomly on the bottom. Pour the white wine and any remaining egg mixture over the bread strips. Sprinkle the grated cheese and thyme leaves over top.

Transfer baking dish to oven. Bake until the gratin is puffy, the center has set, and the cheese is brown and bubbly, 30 to 40 minutes. Remove from oven, and serve.