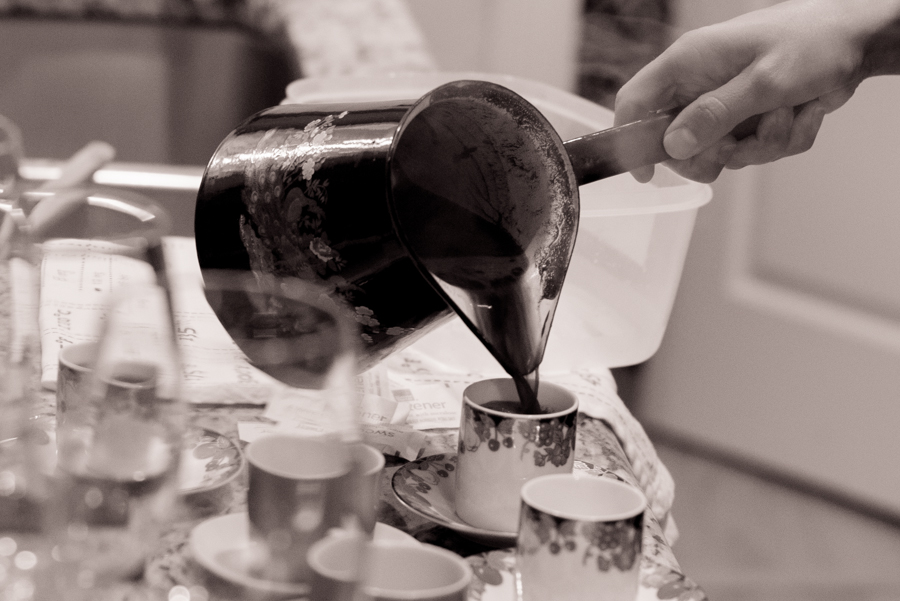 Our most recent International Dinner turned out to be one of the top favorites by the group as we enjoyed the cuisine of Lebanon. (You can see these posts about past dinners on India, Japan, and Korea.) We had Kibbeh Saheeh for the main course, which has a bulghur/meat outer layer and a meat stuffing, Mujadara, a rice and lentil side dish, and Tabbouleh.
Dessert was, of course, baklava, but this version was coffee. Yum. Pre-dinner drinks included coffee, brewed strong and in little cups like espresso. My part for this meal was the appetizer, so I did a Roasted Red Pepper Hummus, Labneh (a strained yogurt cheese drizzled with good olive oil), and Arabian Pita Bread. All were pretty easy to make, and quite tasty, in fact this is our new favorite hummus. And all could be made ahead – which was something I needed at this stage in life! For the labneh, you commonly serve it drizzled with olive oil, so I found an Israeli brand at the grocery store. And it was recommended to serve sprinkled with za'atar, a middle eastern spice blend. I happened to have some that a friend had brought me back. It was the perfect addition. I also read about a version that David Lebovitz makes which incorporates small diced veggies which also sounded good.
The Pita bread was the most fun and something I will do in the future with some of our Indian dishes, Chicken Mole, or other meat/rice entrees. The recipe said it could be frozen as well, so that would be an added bonus, to make it ahead.
Spiced Roasted Red Pepper and Feta Hummus – Food.com
Ingredients:
1 (15 ounce) cans garbanzo beans, drained
1 (4 ounce) jars roasted red peppers
3 tablespoons lemon juice
1 1/2 tablespoons tahini
1 clove garlic, minced
1/2 teaspoon ground cumin
1/2 teaspoon cayenne pepper
1/4 teaspoon salt
1 tablespoon chopped fresh parsley
1/2 cup crumbled feta cheese
Directions:
In an electric blender or food processor, puree the chickpeas, red peppers, Feta, lemon juice, tahini, garlic, cumin, cayenne, and salt.
Process, using long pulses, until the mixture is fairly smooth, and slightly fluffy.
Make sure to scrape the mixture off the sides of the food processor or blender in between pulses.
Transfer to a serving bowl and refrigerate for at least 1 hour.
(The hummus can be made up to 3 days ahead and refrigerated. Return to room temperature before serving.) Sprinkle the hummus with the chopped parsley before serving.
Labneh – David Lebovitz
1 quart (4 cups, 960 g) full-fat plain yogurt
big pinch of salt
Extra virgin olive oil
Za'atar, or fresh herbs
1. Line a nonreactive strainer with a few layers of cheesecloth or muslin cloth (called étamine, in French.) Set the strainer over a deep bowl, one deep enough so that the bottom of the strainer is a few inches above the bottom of the bowl, where the strained liquid (whey) will collect.
2. Stir the salt into the yogurt, then scrape the yogurt into the lined strainer. Fold the ends of the cheesecloth or cloth over the yogurt and refrigerate for 8 to 12 hours.
3. Remove the strained cheese (labneh) from the cloth, which will be thick, and put it into a bowl. (Some people save the liquid whey and use it in soups, or as liquid in bread recipes.)
4. Transfer the mixture to a shallow serving bowl and make a few swirls in the labneh, then drizzle in a fairly generous amount of olive oil. Top with za'atar, or some lively fresh herbs, and serve with bread for dipping.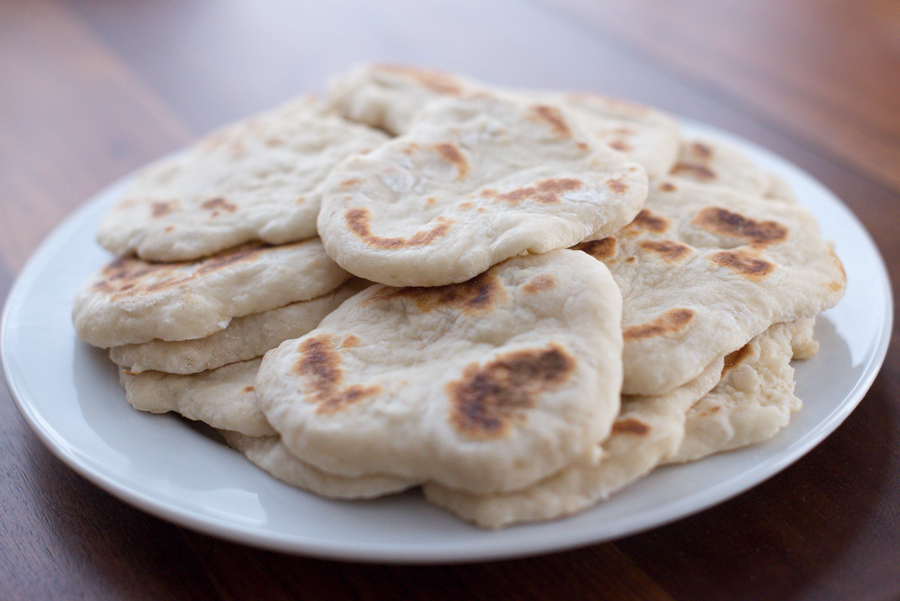 Arabian Pita – Food.com
Ingredients:
1 tablespoon instant yeast
1 1/2 cups water
1 -2 teaspoon sugar
3 cups flour
1 tablespoon nonfat dry milk powder
1/2 teaspoon salt
6 tablespoons oil
Directions:
Mix yeast, water and sugar.
Set aside.
In a large bowl, combine flour, dried milk and salt.
Pour in the oil and yeast/water mixture and stir well.
You might need to add more flour or water, depending on the absorbency of the flour.
Knead dough briefly, divide into 18 egg sized balls.
Place on a floured surface, cover and let rest for 15-30 minutes.
Roll one ball out and cook in a skillet until large "bubbles" form.
Flip pita over and cook the other side for a few more minutes.
I flatten it out with a spatula.
Keep bread warm (wrap in a towel or place in a ziploc bag) while cooking the rest of the bread.
These freeze well.