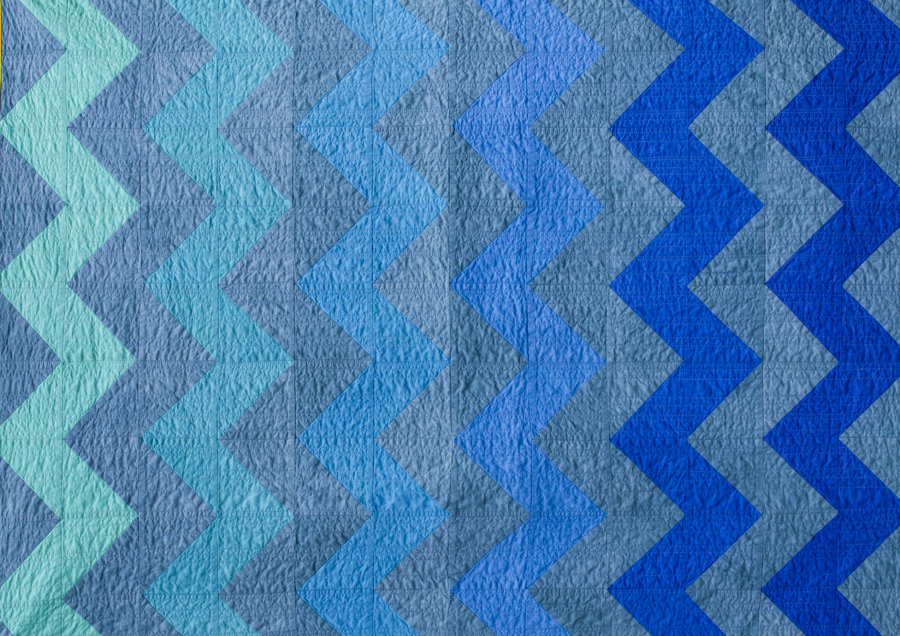 Last year I gave into the chevron craze and decided to make a chevron quilt. Honestly the pattern reminds me of the "zig zag" afghan we had growing up (I wonder where that ended up?) that was made of a bunch of solid stripes. But I was looking for a quilt that I could put casually across the couch, in Pottery Barn fashion, in our front room, and thought the colors and pattern would work well there. It never made it that far, but instead ended up in my studio on the couch because it goes so well with the rest of the room. : )

The blue fabric is from Cherrywood Fabrics with the background fabric (kind of a green blue, even though it looks more gray against the other blues) having particular meaning because it was used at my wedding for table runners. My rock-star mom sewed something like 36 runners (two per table). They were awesome. And now I'm able to use that fabric for other projects!  Incidentally, if the blues look similar to the cross quilt I posted earlier… they are, minus the background fabric. I often don't realize I'm using the same color scheme in a number of projects until I start looking at pictures.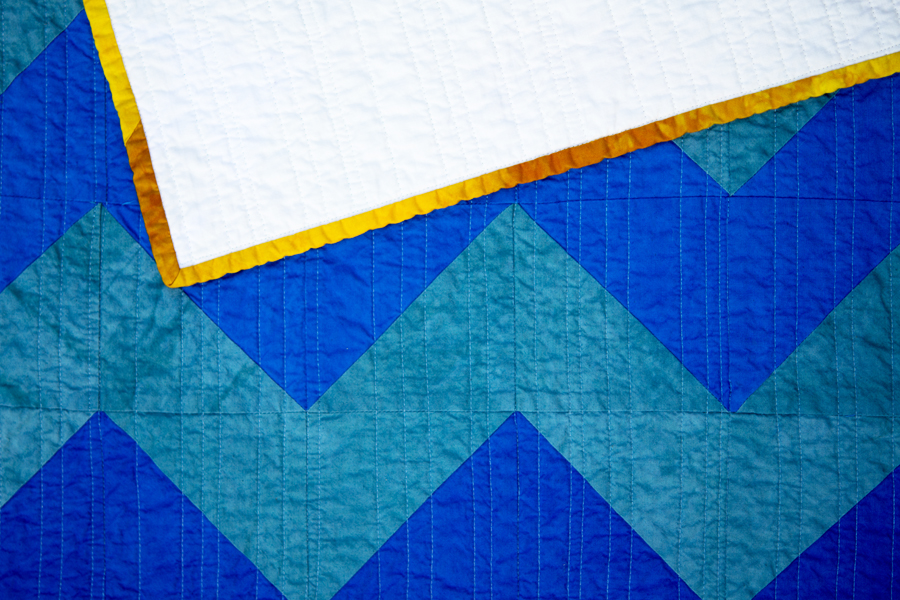 It was just a couple months ago I noticed that the colors I'm using in the nursery – gray, aqua, golden yellow – are the same colors I used in the design of our wedding invites and programs. Ha! I go through phases though, so I'll eventually push myself in another direction until I find another combination I can't stop using for a while.  I chose to bind this quilt in golden yellow (Ricky Tims hand dyed fabric) because I like the contrast of colors. And for the quilting, I did long parallel rows, randomly spaced with a blue thread on top, and white on the back (the backing being white). It has ended up being one of my favorites thus far.